LCSC is one-stop leading online supplier of semiconductor and electronic components from the dominant manufacturers around the world. Since its inception in 2011, they had engaged over 700,000 customers with over 200,000 products with 115 authorized brands, over 310 employees with around $1 Billion in sales. 185 international brands, and 542 brands made in Asia. LCSC distributes over 150,000 products ranging from semiconductors to resistors, capacitors, diodes, inductors, connectors, transistors, sensors, providing design-chain services with EasyEDA too.  Recently, they have acquired an electronic design tool EasyEDA a in the year 2017 and received Outstanding E-commerce platform and distributor for the year 2017 and 2018… LCSC is doing this from Shenzhen which is China's very own Silicon Valley, just bordering Hong Kong. As a technology-driven company, LCSC has built a 10000 SQM warehouse and the management system, streamlined to smooth pick-and-ship operations. Thousands of parcels are sent out to every corner of the world from LCSC's warehouse.
LCSC is based in Shenzhen which is the Silicon Valley of China, right on the border with Hong Kong. the operations of preparation and shipping.
They have 10,000 meter-square warehouses situated in Shenzhen, China that stocks high-quality electronic components from genuine distributors all over the world. They offer less price and good customer support with guaranteed satisfaction. Mostly, they promise in time delivery (4 hrs. ready for shipping) of electronic parts by providing the sample and required purchasing quantity. Moreover, the new warehouse is being constructed in 60,000 square meters near Shanghai with 1.5 hrs. shipping ready. LCSC Electronics Industry Park is planned to be launch in the year 2019.
China's Emerging Silicon Valley is a magic home to numerous multinational and innovative companies such as BYD, Huawei, DJI, Vanke, Hytera, CIMC, Nepstar, Hasee, Ping An Bank, Ping An Insurance, China Merchants Bank, Tencent, ZTE, etc.
100% of the inventory is purchased from authorized distributors or directly from Asian suppliers. Global Lines are purchased from authorized distributors. Asian lines are at a competitive price.
eir ease of availability makes the user choose a wide variety of microcontroller and microprocessor manufacturers and Functional modules (Wireless, WiFi, Development and prototype kits, simulator and emulators, etc.) gives scope for an embedded developer or designer to start the project easily. 
Finally, they are prominent in supplying power management ICs (LDO regulators for low power consumption), DC-DC converters, battery protection ICs, different types of fuses and switching controllers.
What not! Right from basic electronic components (relays, motor driver ICs, switches, audio accessories like a microphone, buzzer and speakers, etc.) to major electrical components such as transformers, battery charger products LCSC has become the topmost electronic company that is providing the best components at a cheap price without compromise on the quality and reliability.
LCSC provides an immense range of in-stock electronic components online which includes different types of resistors, inductors, and capacitors that suits your needs. They are also a pioneer in supplying semiconductor products such as diodes for reverse protection, voltage regulation, signal limiters, and switching circuits.
They supply Logic ICs (Flip flops, Counters, Gates, RS232 and RS485 transceivers, Codec ICs, Line Buffers, Drivers, CPLD and FPGA ICs for VLSI chip design.
They provide Interface chips for your embedded applications such as Ethernet communication, Current Loop (4-20mA) devices, CAN, Repeaters, Splitters and Digital isolators for RF and Digital communication applications.
LCSC offers various SMD crystals and Oscillator for clocking the CPU of microcontroller and microprocessors. They offer a rich set of real-time clocks, Memory chips, and related PLLs and frequency synthesizers. 
They are guaranteed to provide professional Driver ICs such as LED drivers, LCD drivers, Ballast controller, IGBT and full bridge/half bridge drivers which meets the user interface and display applications.
They are recognized as the sensor hub company where different types of sensors are available at one place. Some of the sensors are humidity, temperature, soil moisture, soil temperature, analog sensors (running on current, voltage and resistance),  color sensors for image processing applications,  position and velocity sensor for displacement and speed applications, current sensors, Infrared sensors, Gas sensor, Touch screen controller ICs for HMI (Human Machine interface applications),magnetic sensors, pressure sensors, optical sensors and accelerometers.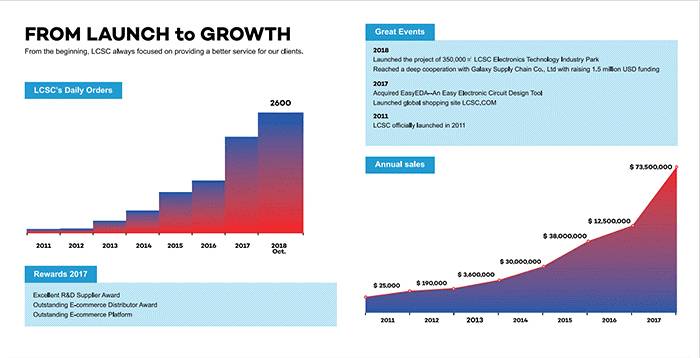 Largest electronic components distributor in china.
Over 700,000 customers satisfied with their products.
Design chain service using Easy EDA design tool.
Range of electronic accessories and chips, connectors, cables crossing over 200,000.
Done a sale of 1$ billion sales with thousands of parcels sent to all over the world from LCSC warehouse.
Excellent R&D supplier award for the new electronic components.
LCSC is committed to providing 100% inventory from the authorized distributors both Asian and global suppliers.
Provides shipping of electronic components through DHL, FEDEX, USPS, EMS and other logistics partners with competitive price and guaranteed delivery in time.
LCSC offers a wide range of Material:
Capacitors | Resistors
Diodes | Quartz | Sensors
Integrated Circuits
Integrated circuit power management
Batteries | Fuses
Connectors | Cables, wires
Inductors, ferrite beads, transformers | Transistors
Processors, Microcontrollers
Optocouplers, LEDs, Infrared
Amplifiers | Filters | HF, Radio
Push-button switches, relay
Buzzers, speakers, Microphones
Memories
Engines | Tools, Accessories