Introduction to Arduino Lilypad
An Arduino-programmed microcontroller called the LilyPad Arduino 328 Main Board is created to be simply integrated into e-textile and wearable projects. To keep the LilyPad Arduino as compact (and as simple) as possible, it just has an ATmega328 with the Arduino bootloader and a minimal number of additional components.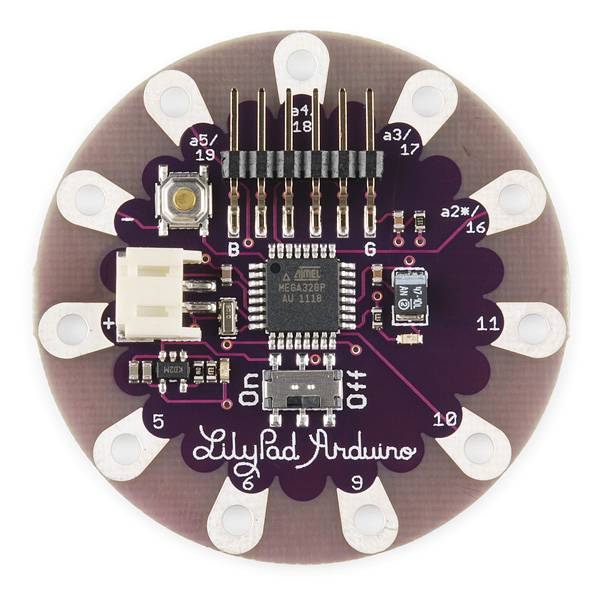 With its big pin-out holes and ability to operate between 2V and 5V, this board is simple to stitch together and connect. With the exception of (+) and (-), each of those pins can control an associated input or output device (such as a light, a switch, a motor, or a weight. Leah Buechley may have created LilyPad, a wearable electronic textile technology, with help from SparkFun. There are numerous boards for input, output, power, and sensors. They can even be washed!
Microcontroller
ATmega168

 

or

 

ATmega328V
Operating Voltage
2.7-5.5 V
Input Voltage
2.7-5.5 V
Digital I/O Pins
14
PWM Channels
6
Analog Input Channels
6
DC Current per I/O Pin
40 mA
Flash Memory
16 KB (of which 2 KB used by bootloader)
SRAM
1 KB
EEPROM
512 bytes
Clock Speed
8 MHz
5 Digital I/O pins.
4 Analog pins.
ATmega328.
Built-in ON/OFF switch.
Simplified layout with fewer pins, giving more space for sewing or less complex projects.
Built-in power supply socket (JST connector) for a 3.7V LiPo battery and charging circuit (no additional battery charger needed).
The main advantage of Lilypad Arduino 1. It needs very low maintenance, 2. The LilyPad Arduino board is the cheapest board, 3. LilyPad wearable projects are washable, 4. It can be sewn in a desirable fabric.
There is no vital disadvantage of lilypad arduino.